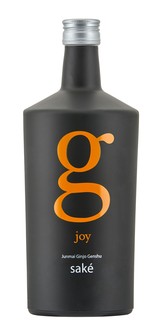 G Joy Genshu 750ml
Junmai Ginjo Genshu
Handcrafted using ancient Japanese techniques and American sensibilities, g joy is the essence of East meets West and past meets present. Being undiluted (Genshu) it retains the rich depth that typically is diluted to soften and smooth the natural heartiness of saké. This is not a shy brew and we suggest you be equally open and share a bottle with friends who will appreciate such a premium experience. It's bold, rich and full of exceptional flavors like melon, butterscotch and enticing black pepper.
Enjoyment: Wonderful on its own or on the rocks. It's our favorite BBQ saké, but works well with anything smoked or hearty like lamb kabobs or Korean bulgogi.
Polish: 60%
SMV: +3
ABV: 18%
---
Product Reviews
Phillip Levinson

(Oct 1, 2011 at 2:44 PM)
This is one of my favorite sake that SakeOne produces. I actually originally tried it out a wine.woot sampler and then after doing more research bought a group of sake's direct from sake one. With this still being by far my favorite.
Matt Wharton

(Nov 26, 2011 at 6:49 AM)
My wife and I love this sake. A little on the pricy side but well worth it. If you like the blue bottles you will love this black bottle sake. Well filtered and no annoying rice in the product. Very smooth with no bitterness and moderate fruitiness. A sake perfectionist's sake. Trouble is how to keep this excellent brew in stock!
Paul Dieter

(Jan 19, 2013 at 12:47 AM)
Just had this for the first time at a sushi bar in Portland. Absolutely fabulous!! Tremendous effort and I will look forward to more.
Bruce Dooley

(Feb 13, 2013 at 5:30 PM)
Wow! Have steered clear of US sakes as most have tasted like they had antifreeze in them. The young and attentive woman at an ABC here in Jupiter Florida gently suggested "G" and I am into my second glass....absolutely over the moon to find such a well-made sake...thank you and kudos Greg!
Roger

(May 11, 2013 at 6:32 PM)
Just had at a Thai/Japanese restaurant in Royal Palm Beach. Easy on taste buds and smooth as nice French wine. Will order again.
Lynne Gawlas

(Sep 28, 2013 at 5:00 PM)
I like to drink Sake warm or at room temperature. I'm surprised that most Sakes in the USA are served chilled. g sake joy is wonderful. I liked the smaller bottle because it is just for myself and also I wanted to see if I liked it. I also got a sake set for two before I bought the sake. That got me in the mood.
Jagdish

(Oct 9, 2014 at 9:36 AM)
Super stuff Smooth and Gluten free
Scott M

(Jan 24, 2015 at 7:35 PM)
I discovered G at Cost Plus World Market. I have enjoyed many different sake in Hawai'i, Japan and California. This is my favorite!!! My girlfriend says it's the most romantic sake in the world!!
SAKEONE TASTING ROOM

(Mar 23, 2017 at 11:51 AM)
A one-star review was accidentally deleted during a "spambot" comment purge. The comment mentioned how they preferred more traditional Japanese sake such as Hakutsuru Sho-Une Daiginjo or other brands.
SAKEONE TASTING ROOM

(Mar 23, 2017 at 11:52 AM)
A one-star review was accidentally deleted during a "spambot" comment purge. The comment mentioned how the g-joy had an unpleasant buttery quality. We apologize to the original customer and value all feedback.
Lee Smith

(Mar 23, 2017 at 12:02 PM)
Thanks for removing my comment but it looks like you need to do another spambot purge. Oh and I won't check the e-mail me box this time ;-)