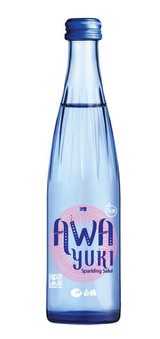 Hakutsuru Awayuki 300ml
Nothing says fun like bubbles, and no saké at SakéOne is as bubbly as the Awayuki!
Affectionately known as the "sparkling snow," this saké is light, fizzy and mildly sweet, perfect for sharing or just for you! Hints of delicate cucumber, peach and marshmallows make this an irresistible treat to beat any Summer heat.
Enjoyment: It cuts through greasy foods with ease, so try it with anything from tempura to pizza to hot wings! Also great with fresh flavors like watermelon and mint salad.
ABV: 5%
---
Product Reviews