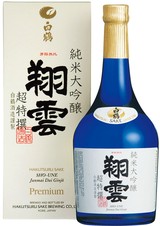 Hakutsuru Daiginjo Sho Une 720ml
The taste of a daiginjo isn't one that is easily forgotten. Hakutsuru's Sho-Une Daiginjo is no exception. The slightly dry, full-bodied saké with velvety smoothness drinks like a dream. Soft aromas of pear give way to flickers of white peach and grapes in this wonderfully complex daiginjo.
Enjoyment: Perfect on its own, but if you want a classic Japanese experience then try it with delicately cut fresh sashimi over sweet rice.
Rice: Yamadanishiki
Polish: 50%
SMV: +2
ABV: 15.5%
---
Product Reviews