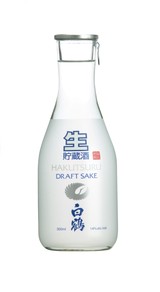 Hakutsuru Draft 300ml
A lively saké that is stored in its unpasteurized form for up to one month at approximately 5 degrees Celsius. Draft saké has a refined freshness and is characterized by its light and crisp flavors.
Enjoyment: Tempura vegetables, fresh tomato bruschetta on a crusty crostini and steamed baby clams with ponzu sauce.
SMV: +4
ABV: 14%
---
Product Reviews