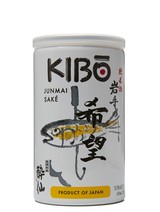 KIBO Junmai 180ml can
This product can not be shipped to OR
In Stock
KIBO=Hope
Forged in the aftermath of Japan's 2011 Tsunami the Suisen Shuzo brewery rose from the rubble to create their first ever saké to be distributed to the US. We're proud to offer the crisp, smooth flavors that embody the brewery's indominable spirit. Hints of honey, roasted nuts and dried fruit are balanced into the perfect portable saké.
*Please note that his product is ONLY available in a 180ml can.
Rice: Hitomebore
Polish: 70%
SMV: +2
ABV: 15.5%
---
Product Reviews
Patrick

(Oct 31, 2015 at 6:37 PM)
I just popped a can of Kibo at a sushi bar down the way from my home in California. Very intrigued by the can, the legit label art, and had to look it up cause I want to get some more to have for home. Nice to see that following the devastating blow they took from the tsunami they are up and making such a tasty beverage that got me back into sake. Love the Japanese carpentry tools and the Kibo.
John

(Jan 15, 2016 at 12:41 PM)
I love everything about this sake, from the perfectly portioned container to the smooth mouthfeel. After one can I'm hooked.