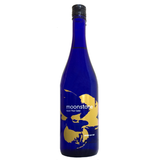 Moonstone Asian Pear 750ml
Bright, Fresh Pear Flavors
Imagine reaching up and picking a perfectly ripe pear off the tree, chilling it down and enjoying it simple and clean. That's what Moonstone Asian Pear is like: bright, fresh and layered with pear aroma and flavors. We are careful to blend this lovely saké to retain clear suggestions of the base brew while taking you on a fruit filled adventure.
Enjoyment: Chill and enjoy or mix in a dynamic saké cocktail. Ideal with pungent bleu cheeses or salty cured meats like prosciutto wrapped melon.
Polish: 60%
SMV: -8
ABV: 12%
---
Product Reviews
QueenBalqis

(Jan 16, 2012 at 3:54 PM)
Delicious cold or lighty warmed in the bottle. Strong sobtle flavor.
Anne

(May 18, 2012 at 6:37 PM)
I have tried every variety available in Oregon, including those at Uwajimaya. Now that my family has moved to Georgia, I miss the Asian Pear immensely! It is smooth and flavorful without being too sweet. I once had a pear schnapps in Germany in 1993, and this is the best "fruit" anything since then. It's best warm, but room temp or cold is fine too.
Brittaney

(Feb 8, 2013 at 5:17 PM)
I love this Sake! It is so fragrant and crisp! I like to pair it with chocolate chai buttercream cupcakes that are dusted with cinnamon:)
Heidi

(May 24, 2013 at 7:56 PM)
This sake is amazing. It really does taste like fresh pear.