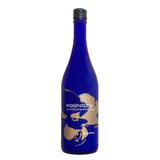 Moonstone Coconut Lemongrass 750ml
Flavor Infused Nigori
This velvety nigori saké is a masterful blend of lush, creamy coconut and tangy exotic lemongrass. Let this beach-in-a-bottle transport you to the white sands of the Andaman Sea and tease your palate with the flavors of the tropics.
Enjoyment: Chill and serve with spicy foods like Indian curries or flavorful jerked chicken. Just remember to shake the bottle before pouring!
Polish: 60%
SMV: -12
ABV: 16.5%
---
Product Reviews
Sharon Leahy

(Apr 2, 2011 at 6:29 PM)
This delightful sake is smooth, slightly sweet, delicately bright with lemongrass, round and carmel in taste, with aromas of caramel, sweet melon, tropical flowers and honey. A most delightful evening sipping sake'.
Vincent Pazienza - ShoeVOGUE.com

(May 2, 2011 at 1:33 PM)
Really superior sake. Had it at a local sushi restaurant, and liked it so much we joined the Sake club! Recommended for any novice or experienced Sake connoisseur.
Kate McD

(Aug 27, 2011 at 12:46 PM)
Aaron Turner, from Oregon Tilth, introduced me to this sake last night. I'm totally in love with it. Will be a staple item in my hoouse moving forward!
Nate

(Oct 6, 2011 at 11:05 AM)
If you enjoyed this then check out:
http://www.scentsforcandles.com/products/scentsy-scents-list/coconut-lemongrass/
Has slightly less of a kick though ;)
Queen Balqis

(Jan 16, 2012 at 3:58 PM)
The best of Moonstone, first sampled at Katana in Royal,Oak, MI. Smooth coconutty, strong yet flavorful, if you like coconut, the lemongrass tempers it nicely.
Hank Hangsleben

(Feb 23, 2012 at 4:50 PM)
I had this at "Kojin".....a new Japanese noodle house in Key West, FL. My wife is not a sake drinker, but once she tasted this superior blend of sake, she is now hooked. Thank you for a wonderful product.
Lesliegirl

(Oct 17, 2012 at 8:38 AM)
Had this suggested for us when dining at Galangal, in Christanstad, St. Croix. Incredible when paired with Thai food. We had to stop ourselves from ordering a third bottle! Toooo fun!
Leigh Seikel

(Dec 12, 2012 at 6:39 AM)
I am hooked. Smooth, slightly sweet. I didn't know I liked Sake until I tasted this.
Myra Adams

(May 2, 2013 at 1:22 PM)
This drink is the most delicious. I love it over ice. Had it first at a noodle house and now I am hooked!
Liz

(May 5, 2013 at 8:38 PM)
It is delicious. I drank it mixed with a bit of organic orange juice, it was amazing.
Jordan

(Jan 2, 2014 at 8:22 PM)
Very delicious on first sip. Can someone email or point me to the nutritional information, please?
sharon Fenderson

(Jan 18, 2014 at 5:48 PM)
Nothing aaverage with this little gem! Had it over at a local restaurant, "Slanted Rice" and am now hooked! A very delicious pre dinner, after dinner sake; at least how I feel. However, you can't go wrong if you have it with dinner, you might feel like you're enjoying your sake more than you meal, because that's how delightful it is! tftqj8A new Summer/Spring fling dor me for sure!
angel

(Mar 20, 2015 at 8:22 PM)
I can't find nutritional content online for this..wondering how many calories, sugar, carbs, ect..
angel

(Mar 23, 2015 at 8:01 PM)
I'm far from a pig in real life. I can clearly taste it's kickass, which is why I want to know how fattening it is..I did get a response from the company, it's about 55 calories an oz, and alot of carbs..which can add up pretty quick if you drink it like a sloth.. a really good sipping sake, nothing to indulge in if you don't wanna get fat. Moderation is key. Just sayin..
butyl

(Jul 2, 2015 at 7:08 PM)
I hate to be "that guy" and ruin the glowing review history, but this is absolutely undrinkable (and I'm normally a big fan of both coconut and nigori saké). The pungent, fake coconut odor hit me like a big whiff of SPF 100+ Banana Boat sunscreen. I can only imagine, but it seems to taste about the same. Nothing but bitter, awful, chemical "coconut."
Aldaf

(Sep 7, 2015 at 11:04 AM)
This is pretty good. Taste good not like banana boat sunscreen, buy.
Ginger

(Jan 31, 2016 at 4:18 PM)
For the "hate to be that guy" whom did not do the research, I did and found that there is nothing chemical fake about the creation of this sake. Here is the info . . . "Infused For Your Pleasure No skimping on flavor or quality. All Moonstone are crafted with fresh brewed Oregon Junmai Ginjo (note that once the flavor is added we do not call it Junmai) and proprietary all-natural flavors selected by our tasting panel. Oregon water, rice milled to 60%, hand-worked koji, proper aging, all of what makes a saké truly fine goes into Moonstone plus the flavor. Once our sakémaster (Greg Lorenz) is happy with his brew, we blend our flavors. Learn More - http://sakeone.com/moonstone/fearless-flavor.html
I find with a sake this sweet, I am not always in the mood for it. I save it for special occasions and is best with spicy Asian foods. I even dipped a Chinese fortune cookie (make with tons of yukky chemicals) and found it wonderful!
Athena

(Mar 11, 2017 at 11:57 AM)
This sake did not have a chemical aftertaste to me. It was very close to a pina colada which I absolutely love. Delicious!