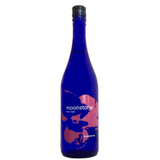 Moonstone Plum 750ml
Dynamic and Lush
This is a fantasy for your palate, from the rapturous sweet fruit and citrusy aromas to a juicy finish that blossoms delightfully on your tongue. Sipping this lovely fruit infusion inspired by Japanese plum wine will carry you off to an enchanted evening of Hanami (flower viewing) under a luminous moon.
Enjoyment: Excellent chilled neat, over crushed ice or spooned onto a heaping bowl of vanilla ice cream.
Polish: 60%
SMV: -88
ABV: 7%
---
Product Reviews
Nicole Zurlfuh

(Aug 11, 2011 at 10:06 PM)
This plum sake is delicious. A friend sugested and I make sure to buy a bottle or two every time I find it. A glass of this would compliment any night out.
Jennifer Clark

(Jan 26, 2012 at 5:26 PM)
i love how smooth this sake is. Its a very easy drinker and goes great with many dishes. The fruit flavor is perfectly blended and not overpowering. Absolutely love it!!!
D Eddy

(Jan 25, 2013 at 7:24 AM)
The sake is sweet, pink, smooth, and was the perfect companion to each dish I tried with it. It's also great alone. I'm ordering 3 bottles :)
Steve Carpenter

(Apr 29, 2013 at 7:46 PM)
Color light pink, mildly sweet in taste, Different. Not real sake, the alcohol content is very low. Real sake is rough, small sips, this stuff is easy drinking. Bought a bottle at the Astoria Crab Fest after sampling. Fair Price.
Felicia Trice

(Oct 9, 2015 at 1:39 AM)
I had it @ the Bon Appetit Show in Chicago it was a Joy to drink. I'm gomna order some..:-)
JJB

(Oct 20, 2016 at 11:06 AM)
Love this stuff, but can't find it in PA anymore.
DeeDee

(Dec 26, 2016 at 6:37 PM)
Wonderful, flavorful, not too sugary sweet, but just the perfect balance.. HOWEVER, no one in PA carries it any longer! Where is it available for shipment at a reasonable price? Not a price gouger, either, please.. I miss enjoying it's goodness.. *pouting*
farrah perkins

(Jun 17, 2017 at 6:46 PM)
A friend of mine had the Moonstone plum sake, omg it was delicious. But i cant find it anywhere in my town.
Sharon O'Connor

(Mar 20, 2018 at 1:45 PM)
Just had my first experience with this at a Chinese restaurant in Houston. Trying to find it local or to order, wonderful.